Testing Multiple Fundraising Scenarios to Future-Proof Your Program
Posted By: Caitlin Bristow
Read Time: 2 minutes
We are in a constant state of change these days.
Organizations are working to set realistic goals for the year, increase funding to make up for short falls, continue with capital or programmatic priorities, and launch new initiatives to meet elevated needs. At the same time, board members are putting pressure on senior leaders to project fundraising revenue for the year, even as they acknowledge the uncertainty affecting fundraising efforts.
How can your team navigate this tricky situation? Enter fundraising scenarios.
Fundraising scenarios are contingency plans that map out how you could reach your goals under various conditions. You can run fundraising scenarios manually or with the help of our fundraising planning software Beam Insights. Read on to learn how you can prepare for and carry out scenario testing.


Preparing for Scenario Testing
The type of scenario exercise you undergo will depend on the size of your fundraising program and the fundraising initiatives you are working to support this year. Regardless of the size and scope of your program, there are several questions that can help you prepare for scenario testing:

What is the baseline of philanthropic funding that your organization needs to support operations?

What are the fundraising dollars you can expect given the results from your last fiscal year? Do you expect any drop offs in significant annual gifts?

Are you anticipating moving forward with any additional fundraising initiatives or priorities this year? Are you finishing or launching a campaign? What do these projections look like?
Once you've gathered this information, you're ready to create and test fundraising scenarios.


Scenario Testing for the Annual Fund
Unrestricted annual funding is the cornerstone of a fundraising operation. When you know what to expect from your annual fund, you can make more informed decisions. To cover all your bases, create three scenarios for your annual fund. Planning for different results can help reassure leadership and volunteers.
Optimistic: Annual fundraising revenue will be in line with revenue from the previous year.

Realistic: Annual fundraising revenue will reach 90% of the previous year.

Conservative: Annual fundraising revenue will reach 80% of the previous year.


How to create an annual fund scenario:
Run a report with the gift distribution of annual fund gifts from the last two years.

Go through your top annual fund donors and make an estimate of the gift level they will come in at this year.

Identify any new potential annual fund donors this year.

Identify those regular donors you hope to upgrade.

Make a projection for the year and then break down optimistic, realistic, and conservative options.
Beam Insights makes scenario planning effortless! Pulling data directly from your organizational database, Beam Insights allows you to develop annual fundraising scenarios by setting optimistic, realistic, and conservative goals with different gift distributions based on potential donor activity—see the screenshot below: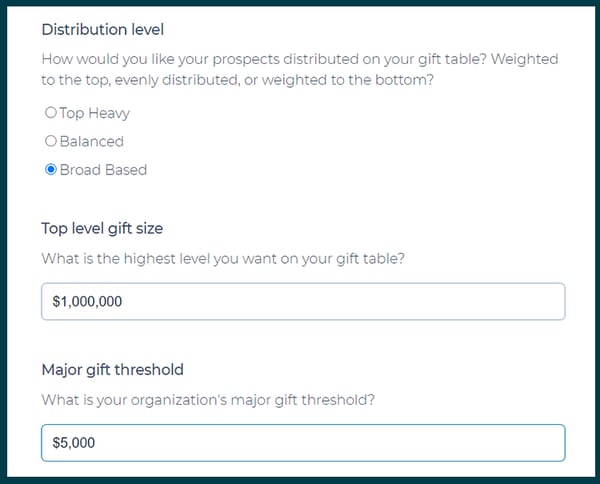 Scenario Testing for Campaigns or Special Initiatives
If you're planning for or in the middle of a special fundraising initiative or campaign, it's important to use scenarios to understand how you can achieve your goals. Create optimistic, realistic, and conservative scenarios for your fundraising initiative as you plan.
Optimistic: Campaign fundraising will remain on target.

Realistic: Campaign fundraising will progress slower than originally projected, and we will make timeline adjustments.

Conservative: Campaign fundraising efforts will be extended, and priorities could shift. For example, you may need to add a new campaign priority to meet more immediate needs or focus on unrestricted gifts.


How to create a campaign or special initiative scenario:
Revisit the campaign benchmarks and determine the dollars needed this year.

Look at proposals in the pipeline expected to close this year.

Determine the gaps between the prospects needed and proposals created.

Review additional prospects with high capacity and determine if you can create a proposal to fill in the gaps.
Beam Insights makes it easy to plan for a single or multi-year fundraising initiative. You can easily view high-capacity prospects to see who is actively managed and who needs to be assigned to reach your goals. With a couple clicks, you can see the gaps in your gift table to determine where you need to upgrade current donors and where you need to engage new donors: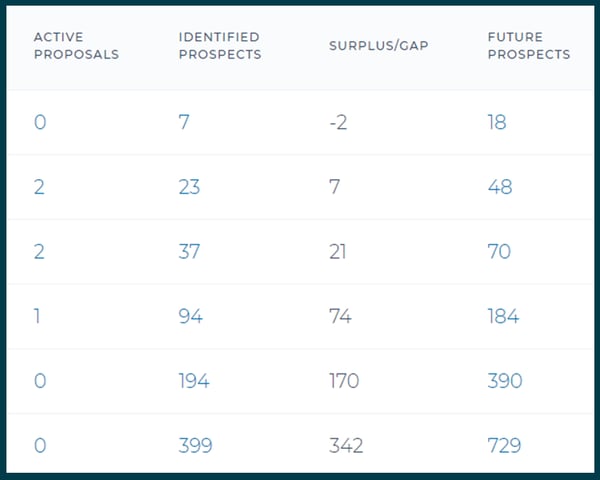 ---
By taking the time to test multiple fundraising scenarios, your organization will be prepared to make informed decisions, pivot when needed, and navigate whatever circumstances the future may hold.
To preview how Beam Insights can help you develop and analyze scenarios, click the button below: