The Limitations of Fundraising Thermometers—and What to Use Instead
Posted By: Caitlin Bristow
Read Time: 2 minutes
Have you googled "fundraising thermometer" as a fundraiser needing to track progress? Are you looking for a quick way to see your progress but also understand your fundraising potential? Maybe you're searching for the wrong thing.
Traditional fundraising thermometers offer a snapshot of your donors' generosity and the progress you've made toward your fundraising goals. They give your volunteers quick answers to the question: How are we doing? But they don't show:
Where donors are giving compared to their capacity

The number of gifts made during the campaign period

The number gifts still needed at each level

How many prospects you still have in the pipeline for this specific effort

How many prospects you haven't engaged yet
It might be worth creating a big fundraising thermometer and printing it out on cardboard to visualize success at your organization, but it might not be the best tool to use to track progress.
Consider a gift table as the new fundraising
thermometer!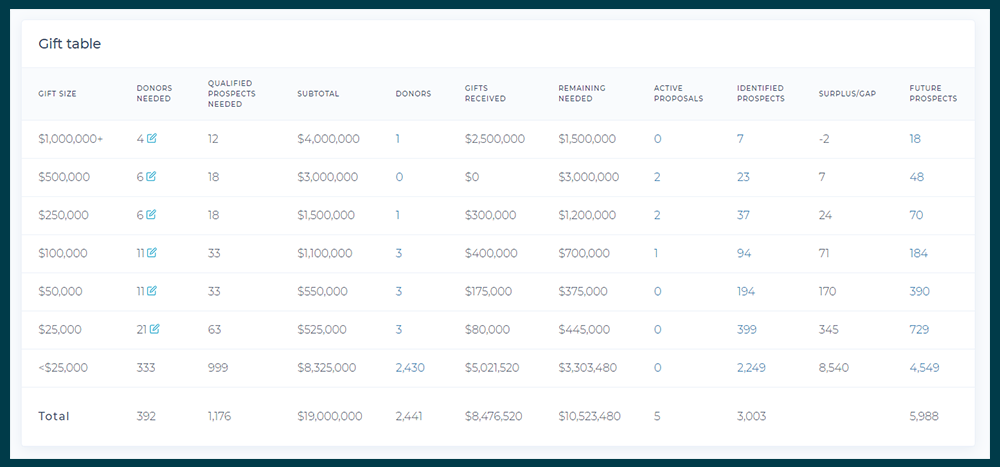 A gift table is a fundraising tracking tool that is widely used by fundraisers. Its quick and easy calculations, easy-to-understand layout, and detailed data points make it a tool that staff and volunteers keep coming back to. Gift tables can help to:
Craft a breakdown of dollars and donors needed at different gift levels

Understand dollars still needed

Show the pipeline of prospects or donors who have proposals or asks at each level

Understand where your organization's prospect potential lies by mapping prospect capacity to gift levels
Sound intriguing? Check out our gift table resources that will help you shift from fundraising thermometer tracking to in-depth and accurate gift table tracking: