Why Fundraisers Need Donor Capacity Information—and How to Get It
Posted By: Kate Effland
Read Time: 4 minutes
Successful fundraising balances the art of persuasion and the science of behavior. The art, crafting a compelling case for support that can persuade a potential donor to invest, complements the science, understanding the donor's giving patterns, interests, and financial capacity to give.
The art is learned over time as a fundraiser grows in their experience; the science, especially in understanding donor capacity, is right at our fingertips—we just need to know how to find it. Data analytics is at the heart of understanding donor capacity, and you do not have to be a data expert to access this information.
Tools like our fundraising planning software Beam Insights can help fundraisers access the capacity of their donor base. These tools leverage publicly available wealth data, past giving history, and other markers of financial capacity to offer predictions of donor capacity.
Read on to learn why capacity data is such a powerful resource for your organization—and how to access this all-important information.


Why understanding the capacity of your donor base matters

Targeting the right donors at the right time
Understanding giving patterns enables fundraisers to target the right donors at the right time—and with the right ask amount. For example, many donors make gifts to an organization at the end of the year for a variety of reasons. In preparing for end-of-year giving, capacity data can enable you to segment your donor pool, target the solicitation at the right time, and tailor the ask amount based on what you know about financial capacity.


Updating portfolios
We encourage organizations to develop portfolios for staff members with fundraising responsibilities as a way to structure their efforts. A portfolio is a set of donors and prospects that a team member manages, developing a relationship with each donor or prospect.
Over time, prospects and donors often change their level of engagement, and new individuals connect with your organization. As a result, portfolios can become "stale" or far too large for one person to manage. By understanding the capacity of your donor base, your organization can ensure portfolios are dynamic, incorporating new prospects as they are identified and moving less engaged individuals out of active management.
A dynamic portfolio helps staff effectively use their time. They can focus on the prospects and donors with the most immediate potential while developing relationships with those who are further away from making a gift.


Creating accurate fundraising plans
Your team's day-to-day activities should roll up to your broader fundraising plan—but creating this plan can sometimes feel like guesswork. Leaning on donor capacity information can help you create more accurate plans grounded in data, not conjecture.
Using capacity data, you can assess the projected potential of each level of your gift pyramid and build goals by level that roll up to a clear plan. This type of methodical planning is even more important in times of uncertainty when there are many variables outside of your control. With an accurate fundraising plan, you start from a position of strength, ready to adapt and respond to external changes as they arise.


Achieving audacious goals
With an understanding of donor capacity, you can set your sights on big, audacious goals, whether focused on annual growth or driven by a fundraising campaign. When you decide to embark on a large fundraising campaign, it's imperative to tie the dollar goal to the true potential that exists within your donor base.
A $100 million goal may sound great to your leadership. But if the capacity of your donor base only suggests that a $50 million goal is achievable, there can be serious consequences if you pursue $100 million. If you have a clear picture of donor capacity, you can feel confident when your organization takes on courageous fundraising efforts.


How to access capacity information about your donor base

Conducting a wealth screening
A wealth screening—usually done by an outside vendor—will provide you with a moment-in-time snapshot of a donor's financial situation. At Campbell & Company, we encourage organizations to conduct regular wealth screenings of their donor base to ensure the data is as up to date as possible. When the economy is in flux and financial capacity can shift rapidly, regular wealth screenings help ensure your donor data stays relevant.


Using custom scoring
Custom scoring unlocks a new level of insights, using a variety of factors to predict a donor's capacity and potential. Indicators of potential giving look different across organizations—with custom scoring, you can feel more confident that donor capacity predictions are specific to what matters most to your organization.
Beam Insights uses custom scoring, creating an algorithm to evaluate capacity and affinity based on the way your organization tracks donor data. We call this the Best Wealth Indicator or BWI for short. The Best Wealth Indicator score considers giving history, proposals, and internal and external ratings (derived from wealth screening data) to assess potential capacity.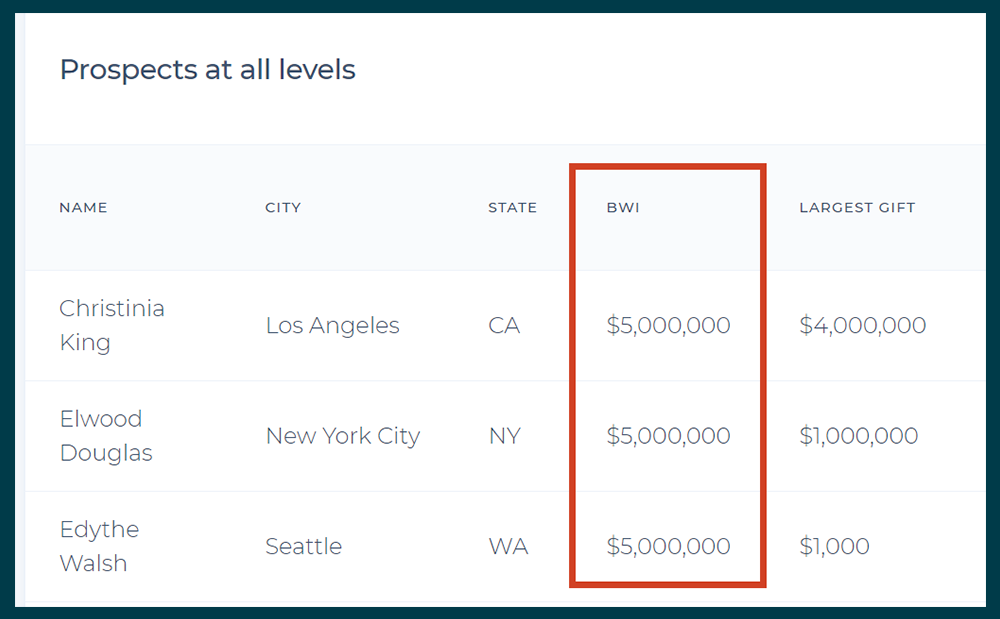 BWI is displayed in Beam Insights, giving you a sense of the overall capacity of your donor pool and that of each individual. The Best Wealth Indicator is updated regularly in Beam Insights, offering a real-time look into capacity.


Segmenting prospects
Segmentation is the act of grouping prospects or donors. You can create prospect segments based on a variety of factors, such as geographic location or giving patterns to your organization.
Most organizations segment prospects to some degree, and they often start with basic segmentation between new or lapsed donors or by gift size. The more data points you collect on your prospects' interests and giving patterns, the more opportunities you have to segment your prospect pool.
Using a combination of data based on affinity and recency, Beam Insights segments prospects from future prospects. We define "prospects" as the most valuable potential donors today. "Future prospects" are individuals you could reach by learning more about their interests and motivations and developing a meaningful relationship.
Segmentation reveals the prospects and future prospects at each level of the gift table. With this information, your team can tailor messaging and cultivation strategy by segment and by giving level.
---
Donor capacity information taps into the science of analytics to help fundraisers work smarter and ultimately make better decisions. With a strong foundation in data, your team can approach the art of fundraising with confidence and creativity.
If you have questions about accessing and using donor capacity information, I'm only an email away at kate.effland@campbellcompany.com. And to learn more about Beam Insights, you can request a 1:1 demo: