Using Donor Data to Advance Your Fundraising Campaign
Posted By: Caitlin Bristow
Read Time: 3 minutes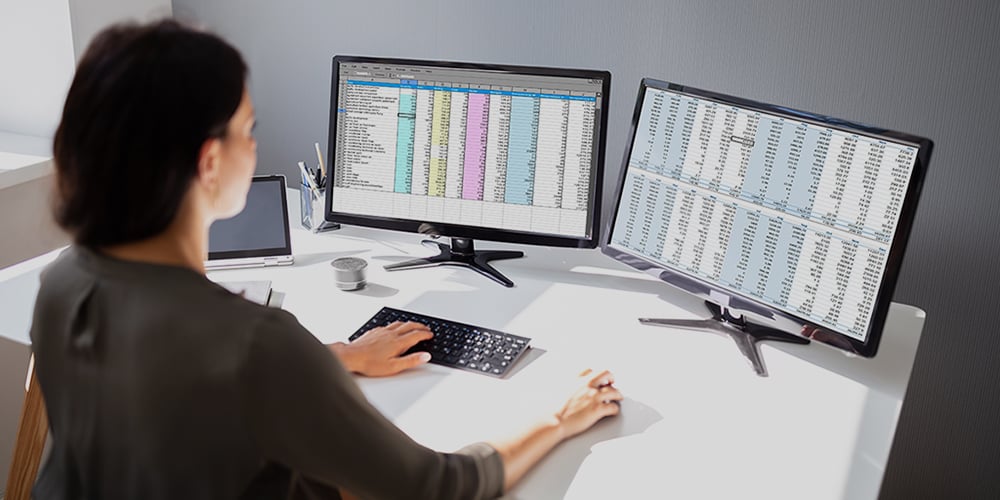 Updated, accurate prospect and donor data supports campaign and major gift success. Understanding where your prospects are in the relationship management cycle, their philanthropic capacity, and recent giving can inform important strategies to get you closer to your goals.
As you plan and execute a fundraising initiative or campaign, prospect and donor data will play a critical role in each phase of the process—and our fundraising planning software Beam Insights can help you along the way. Beam Insights analyzes information from your database and displays it in an easy-to-understand format.
Below, we take you through each step of the campaign planning and execution process, outline the data needed to shape your strategy, and explain how Beam Insights can help.


Pre-campaign planning
As you consider a campaign, it's important to make the most of pre-campaign planning. This includes testing feasibility and your campaign priorities, having conversations with potential lead donors and campaign volunteers, and ensuring internal capacity and structure to support increased fundraising efforts.
The data you need during this phase:
Historical giving on constituents to determine how much you will need to increase giving to meet your goals.
Capacity ratings for constituents to determine the total giving capacity of your prospect base to give over the campaign time period.
Proposals for future solicitations to inform the strength of the campaign pipeline.
Pulling all this data can be a challenge for many development teams, but using Beam Insights makes it easy and gives you access to updated information throughout the campaign. Beam Insights will automatically segment prospects and future prospects to assess the capacity of your short-term and long-term prospects. It will update the scores that inform segmentation on a regular basis.
You can also view your pipeline of proposals and compare ask amounts to capacity ratings.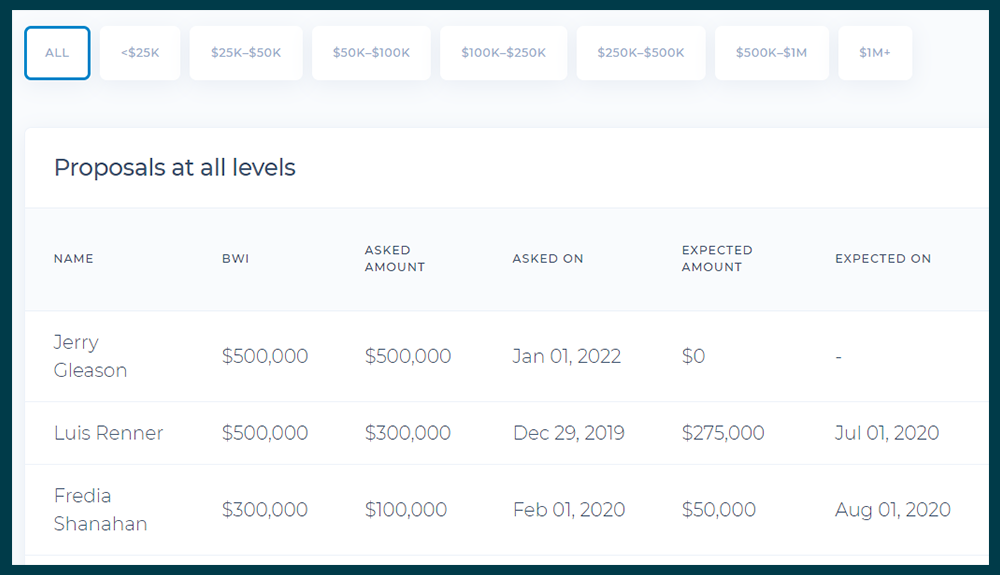 Leadership gift phase
As you move from planning into the leadership gift phase of a campaign, you will be approaching your "friends and family"—the donors closest to your organization who have the highest capacity and affinity. During this phase, you will solicit your "lead" gifts. You want to make sure you are managing the right prospects to support the donors and dollars needed at the top of your gift table.
Your data to-dos:
Build a gift table and, based on your goal, determine the donors you need at each level. Pull in prospects and slot them at their capacity level. Then, create a column to document proposals at each gift level, so you can determine where you need additional prospects.
Track the donor information as new gifts come in, so you can update the gaps in your table.
Beam Insights creates an automatic and customized gift table based on your campaign goal and preferred gift distribution (top heavy, balanced, or broad-based). It analyzes your data by mapping donors, prospects, and proposals to the gift table and reveals the gaps.
The gift table updates on a regular basis with donor, prospect, and proposal information, so you can quickly see the progress made and the work that still needs to be done.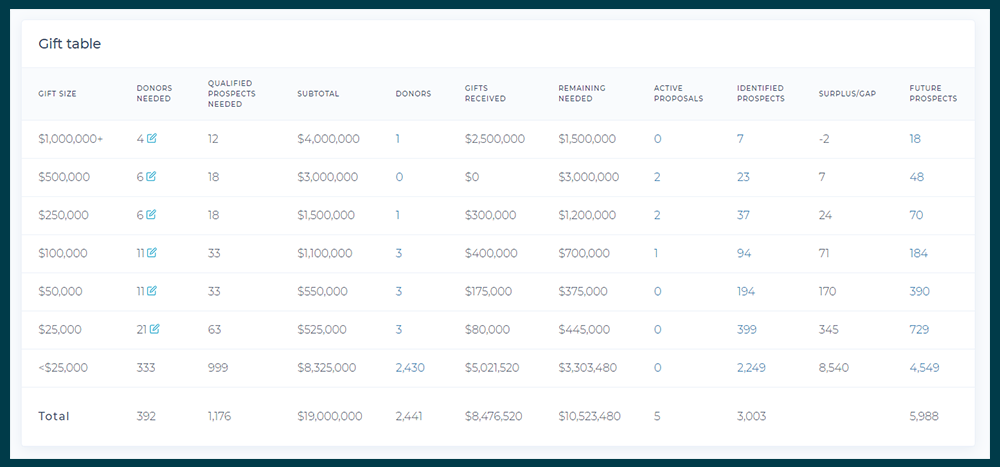 Major gift phase
When you enter the major gift phase, you will be looking to prospects who may not be as close to your organization. It's important to examine portfolios and determine if there are still high-capacity prospects who are unmanaged and need to be strategically engaged before they make a major gift.
Your data to-dos:
Pull portfolios from your database with capacity and giving information for each prospect—this exercise will allow each relationship manager to determine if there are prospects who can be moved out of portfolios because of low capacity or affinity.
Pull a list of unmanaged prospects with capacity information and determine if there are prospects who can be moved into portfolios or be queued up for qualification.
Look at your proposals in the pipeline and determine if you need to enter more proposals to get to your campaign goal.
Gather your donor information and compare the gift received vs. ask amount. Analyze the yield and apply it to the proposal pipeline.
During the major gift phase, you will be doing some heavy lifting with prospects who aren't as close to your organization and with prospects who will be giving at the middle of the gift table. Pulling and analyzing the data to support this work can be a strain on your advancement services team.
Beam Insights makes it easy by filtering portfolios by relationship manager or major gift officer and allowing you to view the portfolios by capacity range. And with just one click, you can view unmanaged prospects who have high capacity.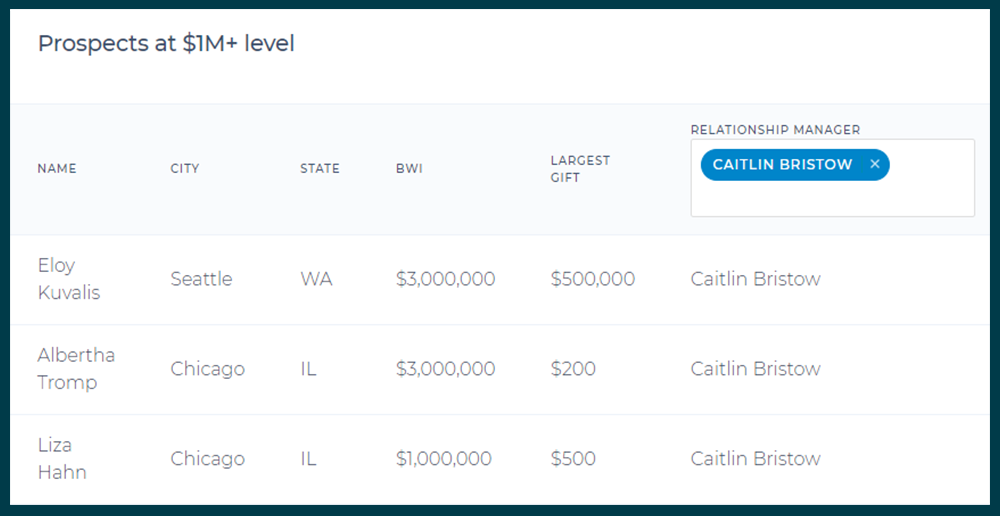 Public phase
As you work to raise the remaining dollars needed to meet your campaign goal, you may be looking to your next fundraising effort or strategizing how to increase your annual fund revenue during the public phase of the campaign.
Your data to-dos:
Look at the remaining prospects who have not been solicited for the current campaign and determine whether a solicitation is appropriate or if they should be cultivated for the next fundraising effort.
Create a gift table for your annual fund (separate from the campaign) and determine if there are annual fund prospects who can be upgraded as you bring the campaign public.
Concluding your campaign with momentum and strength can lay the foundation for increased annual fundraising and your next campaign. Beam Insights can help you analyze your data to inform future fundraising efforts by:
Looking at prospects who haven't given yet and determining if they are prospects for this campaign or the next effort.
Determining whether you can approach prospects who gave in the beginning of the campaign for an increased annual fund gift or a second contribution.
Creating a fundraising plan for the next initiative—Beam Insights can lead you into another successful fundraising effort!
---
Up-to-date, accurate data plays an important role in campaign planning and execution—and Beam Insights makes it easier to analyze and use your data each step of the way.