How to Close Gaps in Your Fundraising Gift Table
Posted By: Kate Effland
Read Time: 4 minutes
The gift table is one of the most important pieces of your arsenal as a fundraiser. But how well do you really know how to build, maintain, and use a gift table? This series goes deep on how to use this tool to advance fundraising efforts.
Read other articles in the series:
Watch our webinar recording: Using a Gift Table to Plan for Fundraising Initiatives
---

One of the most valuable features of the gift table is its ability to uncover gaps in your plan. To reveal these gaps, gift tables factor in the number of prospects you need for the number of gifts required at each level. We generally use a three-to-one ratio: If you need five $50,000 gifts, you likely need at least 15 potential prospects.
When we conduct a capacity analysis for a partner, we map the results of the analysis—what your prospect pool can reasonably achieve—to a gift table for an annual goal or campaign initiative. This process shows you where you have gaps in your gift table. But what should you do once you identify a gap? Read on for three strategies to help you close these gaps.


Strategy 1: Qualify Prospects
Your database likely includes many individuals who you don't know much about.
Maybe they are in your system because they attended an event once, saw your organization's work in the news and signed up for your newsletter, or learned about you through a friend. They may have never made a gift or are occasional donors whose gift amount or engagement level has not reached the threshold for active management in a portfolio.
These individuals could help you build and grow your pipeline. Through qualification, you can uncover who is a real donor prospect. Qualifying prospects is the act of conducting outreach to an individual to learn more about their interests, motivations for giving, and capacity to make a gift. Qualification can help you close gaps in the gift table by bringing individuals closer to your organization and, therefore, more likely to make a gift.
The qualification process uses capacity and affinity data to help you identify which individuals in your prospect pool may be most interested and able to make a gift based on their other philanthropic interests, measures of wealth, and life stage.
Once you understand capacity and affinity, you can reach out to these individuals—whether by phone, video, or in-person—to confirm their capacity, learn about their interests, and understand how to engage them going forward. As you qualify individuals, you can then move them into active management or disqualify and remove them from your pipeline.
Unfortunately, it's common for development staff to face qualification roadblocks. These challenges are often related to a lack of time to do direct outreach or a lack of tools to coordinate and track activity. Our fundraising planning software Beam Insights can help by simplifying several steps to qualification.
Beam Insights regularly updates an individual's capacity rating and sorts these individuals into different levels of your gift table. The software then segments your prospects into top and future prospects based on their likeliness to give now or down the road. With segmentation in place at each level of the gift table, you can begin to qualify your prospects and move individuals into active management.
For more guidance, download our Qualifying Donors study.


Strategy 2: Upgrade Donors
Upgrading donors is another important way to fill the gaps in your gift table and maintain a healthy pipeline. While qualification is primarily focused on bringing new or less engaged individuals into your pipeline, upgrading is focused on active, engaged donors (based on their gift history).
The strategies you use to motivate these individuals to increase their giving focus on emphasizing their interests and building personalized engagement opportunities to deepen their relationship with you. As you cultivate, you demonstrate that an increased investment in your work will enable your organization to achieve your strategic goals, connecting your mission and programs back to the donors' personal motivations.
And because these individuals are already giving to your organization, they are more likely to grow the size of their gift to you in a shorter timeframe—thus allowing you to fill gaps in your gift table.
When you use Beam Insights, it's easy to review your most immediate prospects alongside their capacity information and largest gift to your organization. With this data in hand, you are well positioned to decide if individuals have the potential to upgrade their gift and, if so, build a strategy to achieve the upgrade.


Strategy 3: Re-Work Your Gift Table
Sometimes the gaps in your gift table may be large enough for you to reconsider the path to achieve your goals. It's important to acknowledge when these gaps are too large to close. Large gaps in the gift table slow down your progress and may lead your fundraisers to build strategy that isn't focused on the best return on investment.
If the gaps in your gift table feel too large or lack an adequate prospect pool, you can re-work the gift levels to something more reasonable for your pipeline. Beam Insights makes it easy to re-work your gift table. Each level of your gift table is customizable, allowing you to redefine the gift levels and numbers of prospective donors needed to reach your fundraising goal: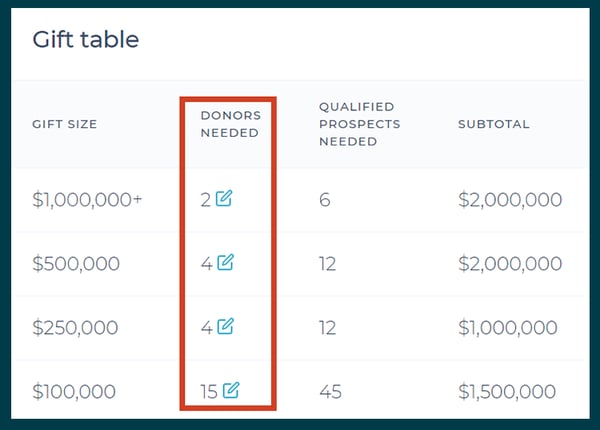 For example, if your gift table has recommended 25 gifts at the $25,000 level, but you only have 45 prospects with capacity to give at that amount, you can easily adjust the number of gifts to 15 at $25,000.
When you make this change, Beam Insights will automatically redistribute the remaining amounts further down the gift table. And in the best case scenario, Beam Insights will unearth an unknown pool of lead-level gift prospects, enabling you to adjust the gift table to account for more high-dollar gifts.
---
When it comes to closing gaps in your gift table, success depends on how systematically you track your progress and the quality of data you have to define your engagement strategy and make adjustments along the way. Beam Insights makes this process simple and efficient, ensuring you have the data you need to close the gaps in your gift table.
To see Beam Insights in action, click the button below.