Acing Annual Planning with a Fundraising Gift Table
Posted By: Katelyn Martin
Read Time: 3 minutes
The gift table is one of the most important pieces of your arsenal as a fundraiser. But how well do you really know how to build, maintain, and use a gift table? This series goes deep on how to use this tool to advance fundraising efforts.
Read other articles in the series:
Watch our webinar recording: Using a Gift Table to Plan for Fundraising Initiatives
---

If you have ever worked on a campaign, you likely used a gift table—it's the tool that suggests how many gifts you'll need at each level to reach your goal.

Far less common, however, is the use of the same tool for annual planning. But why? At Campbell & Company, we are big proponents of gift tables; we recommend using them as your roadmap for all your fundraising efforts.
Our commitment to the use of gift tables for planning led us to develop Beam Insights, our proprietary software. Beam Insights creates a capacity score for everyone in your database, segments them into near-term and long-term prospects, and slots them into a gift table. You can update this gift table as you learn more about your prospect pool or contextual factors that may impact your fundraising results.
In this article, we will talk more about how context can impact your annual fundraising, and how you can mitigate potential negative effects by using a gift table-based planning tool like Beam Insights. See below for an example of a Beam Insights gift table: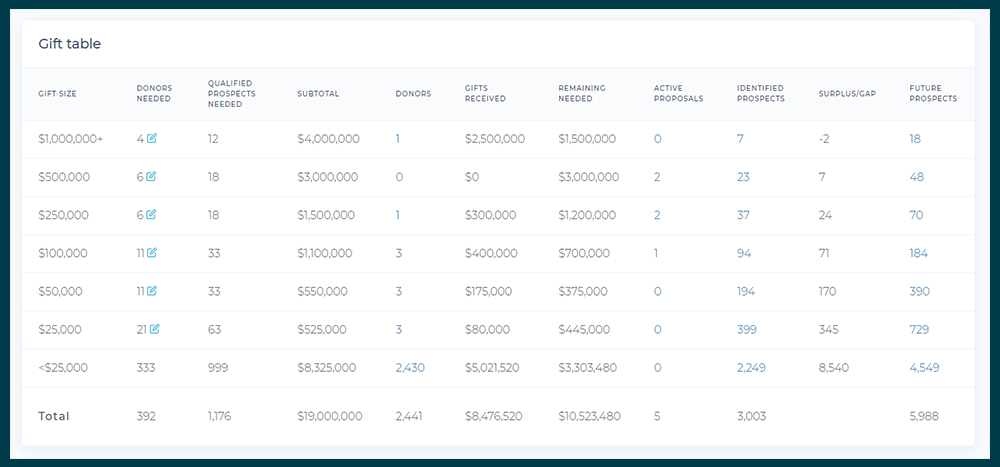 Mid-Year Pivots
No matter when your fiscal year starts and ends, the COVID-19 pandemic has likely impacted your expectations. Yet even amidst uncertainty, you still need to reassess and present a fundraising plan (or plans!) to your leadership. That's where reviewing your progress against a gift table can help.
Ideally, you are tracking planned asks in your CRM. Do a deep dive to assess how each is moving through the pipeline and adjust expected amounts and close dates as needed, moving each prospect to the appropriate level of the gift table (or off it if a gift won't happen this year). Plan on three asks for every one gift received at each level.
You can also take a close look at the gifts you've received already this year by level and make some assumptions about what that will mean for other gifts. Perhaps you've seen an influx of new donors at lower levels and plan to make additional investments in your direct mail program at year-end. In that case, you might increase the relative share of your goal coming from lower-level gifts.
Beam Insights is a great "sandbox" for this type of scenario modeling—users can define goals for the separate initiatives that make up your annual fund (e.g. events, direct mail, personal solicitations) and track progress on each with up-to-date giving information. You can review proposals in the pipeline, change the gift table, and see the effects immediately.
Importantly, users can create unlimited scenarios, so you can project everything from best case to worst case as the context continues to shift.


Preparing for Your Next Fiscal Year
The sector is likely to feel the impact of COVID-19 for some time, but it is hard to forecast the extent of that impact. What can you be doing now to prepare for next fiscal year? You guessed it—use a gift table!
Metrics such as retention rates, acquisition rates, and average gift size provide critical insights to shape the bottom of your table. Depending on your sector, the bottom of your pyramid may have shifted a lot this year. If that's the case, you can build multiple scenarios to account for various outcomes for these donors next year.
For prospects in the middle of your table and higher, each relationship manager should take the time to set up gift opportunities (or proposals) in the system for prospects in their portfolio. This can include table buyers for events as well as in-person solicitations.
Planned ask amounts can change during the year, but if you spend time now setting up this infrastructure, it will be much easier to roll up your plans to a total goal. Once those proposals are in, review how that aligns with the levels of your gift table and identify where you might have gaps in order to meet your goals.
Beam Insights makes this effort much more efficient. The bottom of your gift table is calculated as a baseline based on your donors' average giving, which you can update as needed. At the higher levels, with dynamically updated data and unlimited scenarios, you can quickly see the impact of changes in plans and review the data at a summary or detailed level. And if you are not quite ready to share your "reach" scenario, you can keep it private.


Refreshing Your Strategy
An annual plan is an evolving document, created using the best assumptions at a point in time. It is helpful to check in on progress and refresh your strategy monthly, even in "normal" times. Sometimes, you may find that you are on track and no changes are needed; other occasions may call for retooling.
Committing to this level of oversight allows you to adjust strategy to ensure you meet your goals. We built Beam Insights to be the centerpiece of your development team meetings—at a glance, you and your team can evaluate your progress and refresh your annual fundraising strategy as needed.

Even when the ground feels like it's shifting underneath you, with strategic planning and monitoring of your goals using a gift table, your annual fund can be a success.
---
To learn more about how Beam Insights can streamline your annual planning efforts, click the button below.